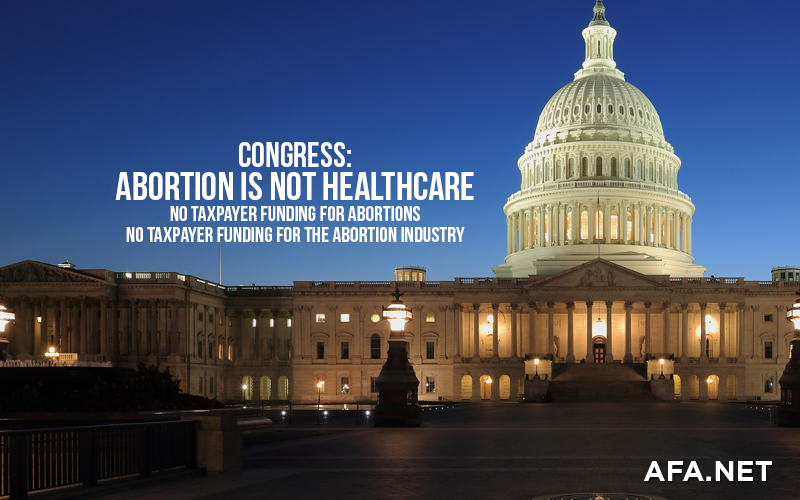 Pro-life provisions in Obamacare repeal are non-negotiable
The pro-abortion industry is trying to strip out two pro-life provisions from the bill H.R.1628, known as the Obamacare repeal bill. You can be assured that Marxists and secular progressives will pull out all stops to use your tax dollars to sustain and expand a culture of death through abortion.
I sent your U.S. senators a letter and a copy of AFA's press release  today calling on them to support key pro-life provisions in H.R.1628. I ask that you take the same action now and email your senators urging them to protect these pro-life provisions.
Your U.S. senators are being heavily lobbied by pro-abortion forces who are pressuring them to strip out two pro-life provisions in the bill. One provision bans taxpayer funded abortions, and the other provision defunds Planned Parenthood…. read more
opinion: We have already signed this and an email was sent to our senators in Texas. God clearly talks about this in the bible and a decision needs to be made whether to believe man or to believe God. Whom will you serve this day?

Psalm 139:13 For You did form my inward parts; You did knit me together in my mother's womb.
Exodus 20:13 You shall not commit murder.
Deuteronomy 5:17 You shall not murder.
Joshua 24:15 And if it seems evil to you to serve the Lord, choose for yourselves this day whom you will serve, whether the gods which your fathers served on the other side of the River, or the gods of the Amorites, in whose land you dwell; but as for me and my house, we will serve the Lord.